Dial Dimepiece
Your horological hotline. You call, I answer.
February 2023
Last week, I sent out an "Ask Me Anything" bat signal on Instagram, and you all came back with some very interesting watch-y questions.
@rfsilvia asks: Fave watch under $1k to start out a higher-tier collection?
I love vintage TAG Heuer (or pre-TAG), and you can find some great ones for far below $1k. TAG Heuer really
dominated the everyday, wearable watch space in the 1990s
and resurfacing pieces from that era is a nod to that. The vintage Formula 1 is a favorite and a testament to the brand's long standing relationship with motorsport. Watch heads will appreciate it for its historical legitimacy; and because it's a lil *different*, it can equally be appreciated by non-watch heads. Styled correctly, the quirk factor can be rendered cool and sporty (unless, of course, you want to augment the quirk). Just be attentive to the condition of what you're buying on eBay/poshmark/etc. A lot of these pre-owned vintage F1s have the numbers on the plastic bezel completely worn off. For example,
this one
is totally fried. Not a number in sight.
This
is what it's supposed to look like. You can learn more about the brand and its history via TAG's heritage director, Nicholas Biebuyck, on episode 15 of
Killing Time with Brynn and Mailaika.
Also, don't rule out Seiko! There's a reason why Seiko is a household name – and it's the brand's durability, quality, detail-oriented craftsmanship and quality quartz (and automatic) movements. Seiko did popularize the quartz movement, after all, bringing beautiful watches to the market at a price point more accessible than watches fitted with mechanical movements.
My little Seiko diver
is one of the favorite watches that I own. It's actually automatic, and the screw back case features the iconic Tsunami engraved design, which represents the watch's ISO dive rating abilities (found only on Seiko's dive watches). 'Tis a little powerhouse and coveted in the vintage community (you can read more about it
here
, even though this one is sold out).
Here's
a good one… it's just a little bigger than mine. Happy hunting if you want the little guy! And if this one is not for you, check out
DC Vintage Watch
's amazing selection.
Then there's Omega Constellation, which was actually designed by a woman. Carol Didisheim designed the innovative 1982 reissue at just 26, and it has since become one of the brand's most notable designs, often falsely credited to Gèrald Genta, who designed earlier iterations of the Constellation. Popularized by Cindy Crawford and my favorite 2000s icon, Anna Kournikova, the Constellation is a testament to the enduring power of good design. Its craftily integrated bracelet, the famous "claws" latching onto the highly original bezel and its ability to be customized is just one of the many reasons why this watch has remained relevant since its launch. You can find some very accessible priced options online like
this
and
this
.
Lastly, I love the
Tissot PRX 35
, which is considered the most accessibly priced version of the "integrated steel sports watches" (think the Royal Oak and the Nautilus). Originally launched in 1978, the modern iteration of this watch retains its '70s feel while still being sleek and minimal. Full disclosure: Tissot gifted me this watch and tickets to the Lakers game (they're the official timekeeper of the NBA,
see me rocking it
), but this is a genuine recommendation. I'll take gifts, but I can't be bought!!!!
@mggcrn asks: Mary-Kate or Ashley?
Mary-Kate.
This video
came out when I was 17 years old and when NYLON Magazine was in its golden era. Shot by Jason Nocito for the cover story, here's Mary-Kate Olsen a year after she launched The Row with Ashley, just after she wrapped shooting on The Wackness with "Sir Ben Kinglsey." I still get chills watching this video remembering how deeply I felt for her when I was a teenager.
@annaesanders asks: How should I pick a watch??
This question might seem so simple to capital W "watch" people, and their answer could be: set a budget, figure out if you want pre-owned/vintage vs. new and buy it. But I've found that the most challenging thing for newcomers is figuring out what they actually like. This was me. May 2020, I was turning 30, and my dad asked me what I wanted as a gift. 30 felt like a big milestone, so I suggested a watch, and he asked which watch? I could not come up with an answer for the life of me. I realized I had no stylistic reference point, no starting point. When I looked at watches online, they all just looked like… watches.
You can read about the peaks and valleys of my collecting journey
here
, but my #1 piece of advice is TRY ON AS MANY WATCHES AS YOU CAN! Ask your friends if you can try on their watches, ask your parent's friends (they might have nicer watches). Dress up and take yourself on a date to the Cartier store. Walk into Tourneau. Go to auction previews. Try. On. As. Many. Watches. As. You. Can. From there, you will start to understand how different pieces work with your wrist and narrow it down from there. Also, look at photos of celebs wearing different watches, and you can start to understand which types of "personalities" go for different watches and place yourself accordingly. (For this, I obviously recommend following Dimepiece on Instagram).
@a.2.1.2.3 asks: Watch recs for a teenage girl?
Ooooooh, I LOVE this question. Because, to be completely blunt, as a teenage girl, you have no business wearing something that fits in the "luxury" category. I know from personal experience, having severely damaged and straight up LOST hand me downs from my grandma and mom. Get yourself something cute and fun but nothing that will leave you feeling absolutely GUTTED if you misplace it forever. You're young, you live fast. It just comes with the territory so adorn yourself accordingly.
I love
BREDA
, a brand that I've worked with officially before but came to love very organically. Their designs are so classic and versatile, and the quality is nice despite the lower price point. I think what I love the most is they're not trying to imitate the more famous, expensive watch models (there are a lot of affordable watches out here trying to look exactly like the Cartier Tank or the Rolex Datejust, which just feels kind of sad to me… wear something different and simultaneously aspire to one day own the BIG GIRL watch of your dreams).
Here I am flexing
their new "
Time Rings
" made in collaboration with the jewelry designer
Dalmata
. Yeah, I was paid to post that photo of me on Instagram, but I truly think they're so exciting. I also love
this one
(or any on the mesh bracelet) and the playful rubber strapped, aptly named
PLAY watch
.
Also, Los Angeles Apparel has a great selection of watches ranging from classic
Casio
to this adorable
heart watch
. Full selection
here
. I'm tempted to buy all of them. Fun fact: when LA Apparel was called American Apparel, I bought a Seiko from them and wore it every single day :)
@a.eleina asks: What is the ideal full gold automatic/mechanical ladies watch? Deciding on a grail watch.

I may have to say a yellow gold Jaeger-LeCoultre Reverso on a bracelet. My friend, podcast host and style editor at HODINKEE,
Malaika Crawford
, got one for herself and I trust her taste immensely. The Reverso is a forever classic and JLC is one of the best movement makers in the biz (all in-house, mind you).
This one
looks pretty good.
But if that's not "GRAIL"-y enough for you, may I suggest the
Carolina Bucci frosted gold mirror-dial Royal Oak
. Mon dieu.
@ashsalik asks: Is/will Grand Seiko be heirloom quality?
This is a valid question because, admittedly, when you hear "heirloom quality" you may think of Patek Philippe ("You never actually own a Patek Philippe. You merely look after it for the next generation.") or something as ubiquitous as Rolex. But Grand Seiko watches are built to last, and although the brand is "younger" in the context of the watch industry (founded in 1960 vs. many Swiss watch manufacturers starting as early as the 1800s), their pioneering precision in mechanics is one main reason why Grand Seiko has successfully transcended the snobby stigma that comes with being a non Swiss-made watch. I consider Grand Seiko to be a watch person's watch brand, coming with a cult-following of obsessive fans, and the reach is only getting wider due to its relatively lower price point. The value you get for a Grand Seiko is important – many Swiss watches fitted with their quality in movement would be priced nearly double.
I also asked a friend and fellow Grand Seiko fan what he thought about these watches being "heirloom quality," and he responded quite eloquently: "An heirloom has an extremely personal meaning to it. I plan on passing down my watches to my kids someday, but this has nothing to do with their monetary value. It's about the sentimental value I have placed on them." In this regard, you
and you alone
generate the value from the meaning you personally inject into it. So if you thoroughly love your Grand Seiko watch (or whatever your wear), the next generations should too.
@alisonprintz asks: Do I wear my Tank Française while working out? Scared to.

If it's steel, go for it. If you're lucky enough to own the gold version, though, don't risk it. Gold is soft and susceptible to scratching. But the steel can endure a little sweat and tears.
@chrissyford asks: If money was not an issue, what would be your next watch purchase?
An Audemars Piguet Royal Oak. It's non-negotiable that this becomes a part of my collection. Maybe the Carolina Bucci edition linked above. If money were not an issue AND I lived on another planet, my next watch purchase would be a Richard Mille.
Cameron Diaz wearing her TAG Heuer Formula 1 watch in Cannes (1994).
Better pic of the F1 here. Image not my own. Would be a great first watch for any budding collector.
A major '90s DJ, Smokin' Jo, shot by Wolfgang Tillmans (1995) wearing what's now called a Link. Just to drive home how hot TAG was in the '90s!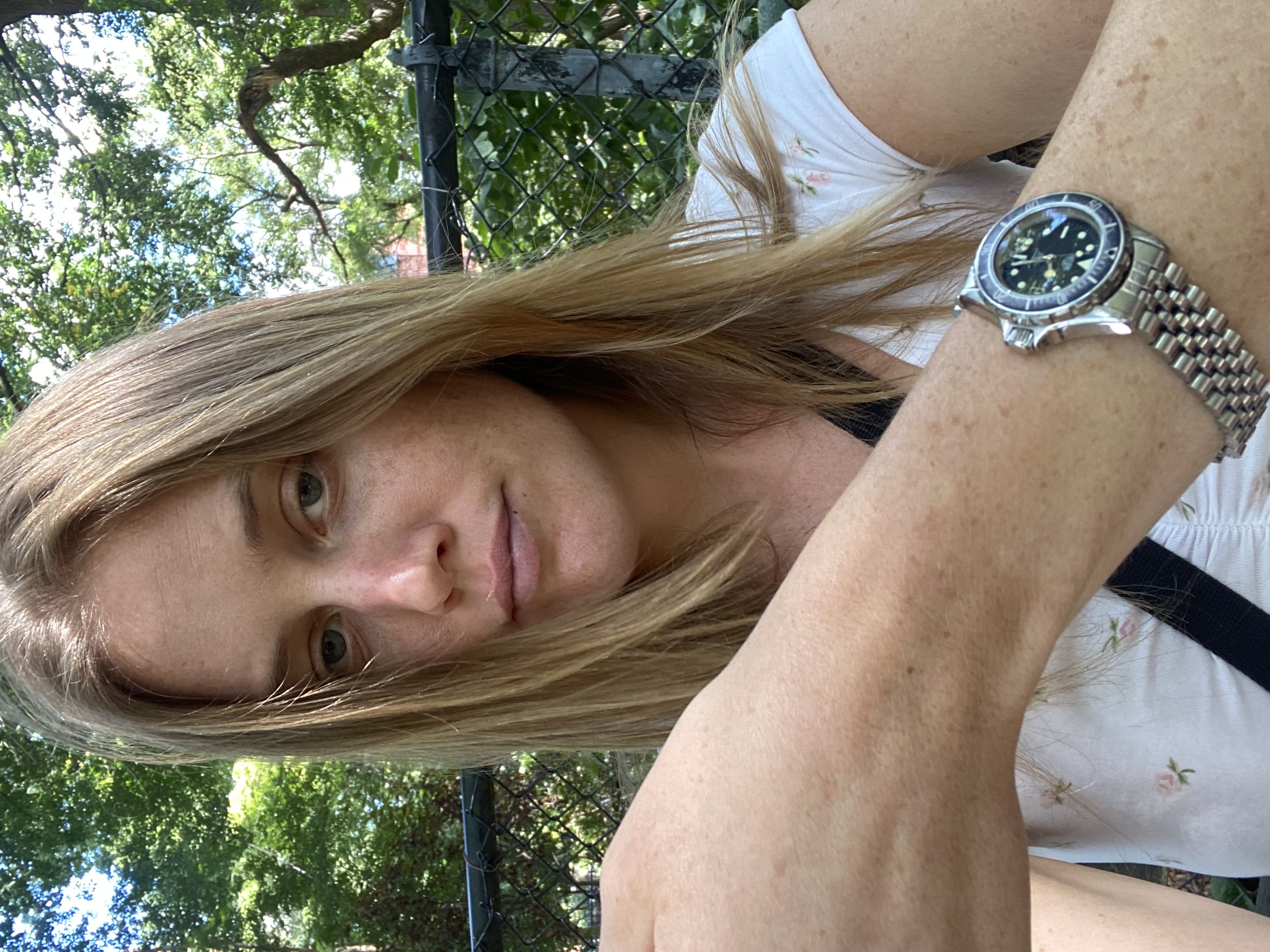 Me looking slightly weathered wearing a vintage ladies Heuer diver watch with a ghost bezel ︎
Baby Seiko diver.
2000s Anna Kournikova wearing an Omega Constellation.
Wearking my Tissot PRX 35 at the basketball game (love how it reflects the Lakers purple).
Mary-Kate Olsen shot by Jason Nocito for a 2007 NYLON cover story, rendering her my favorite Olsen.
MK with her signature battered Birkin.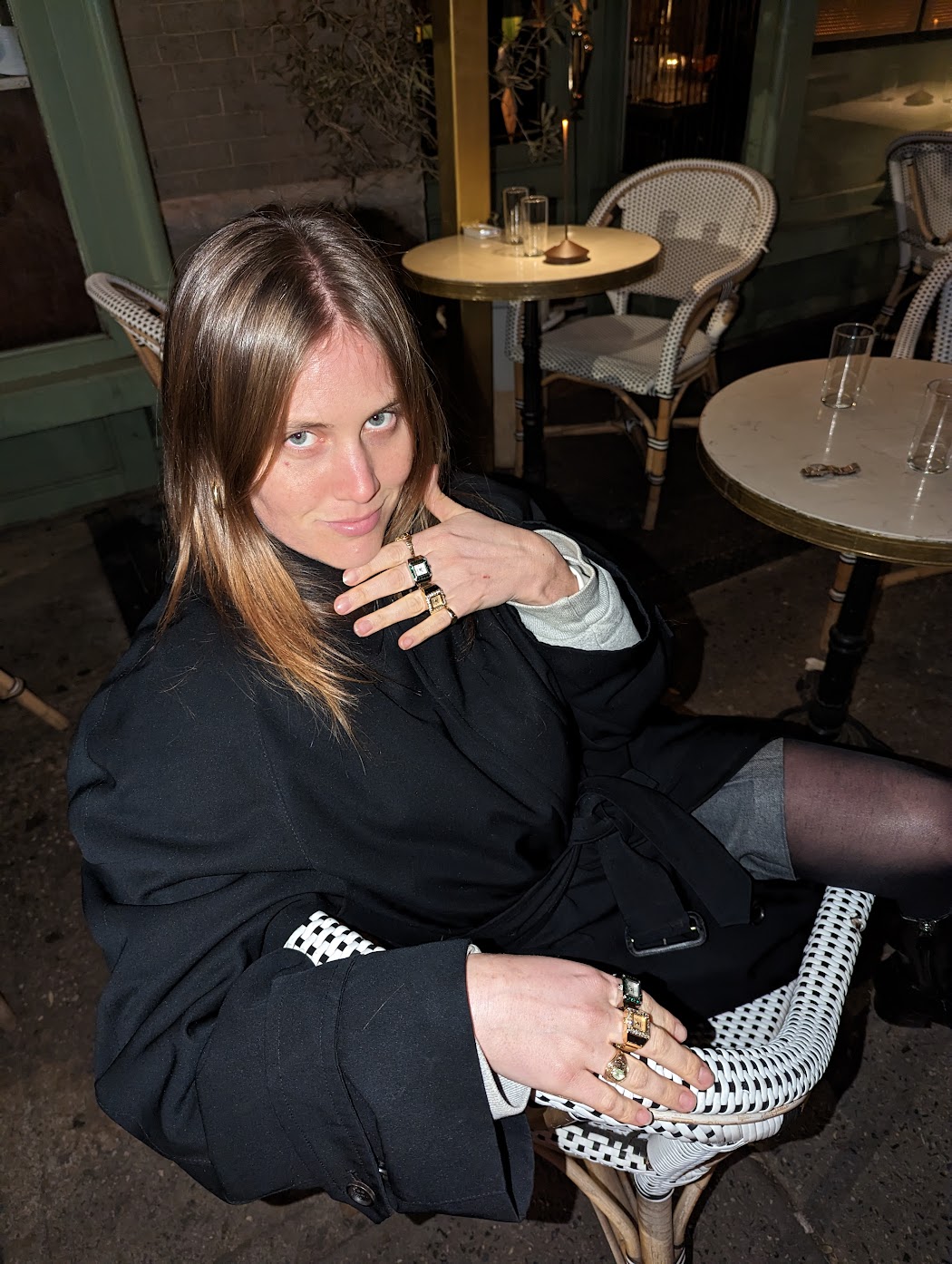 Wearing my BREDA Time Rings.
A campaign shot of a Tethered watch via BREDA.
Another BREDA campaign image (they have the best campaigns out of any watch brand... even the famous Swiss ones). Model is wearing their PLAY watch.
A heart watch from Los Angeles Apparel. PERFECT FOR A TEENAGE GIRL<333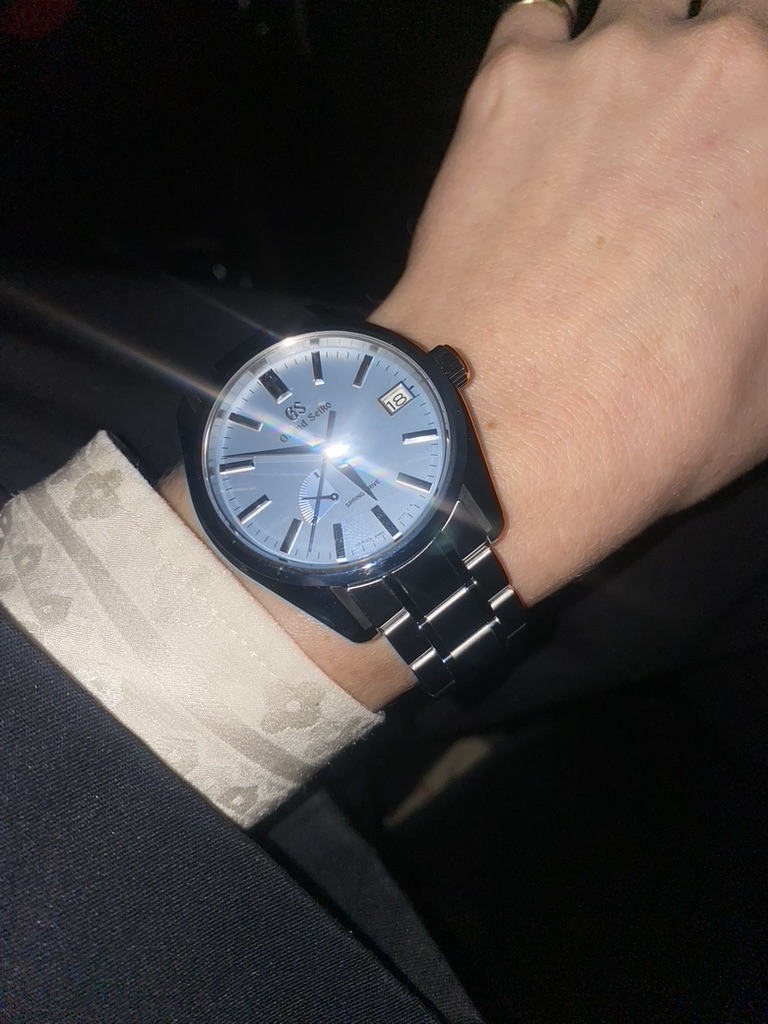 My HEIRLOOM QUALITY Grand Seiko that I will be passing onto my children.
The Carolina Bucci Royal Oak with the mirror dial and the Florentine finish via Audemars Piguet.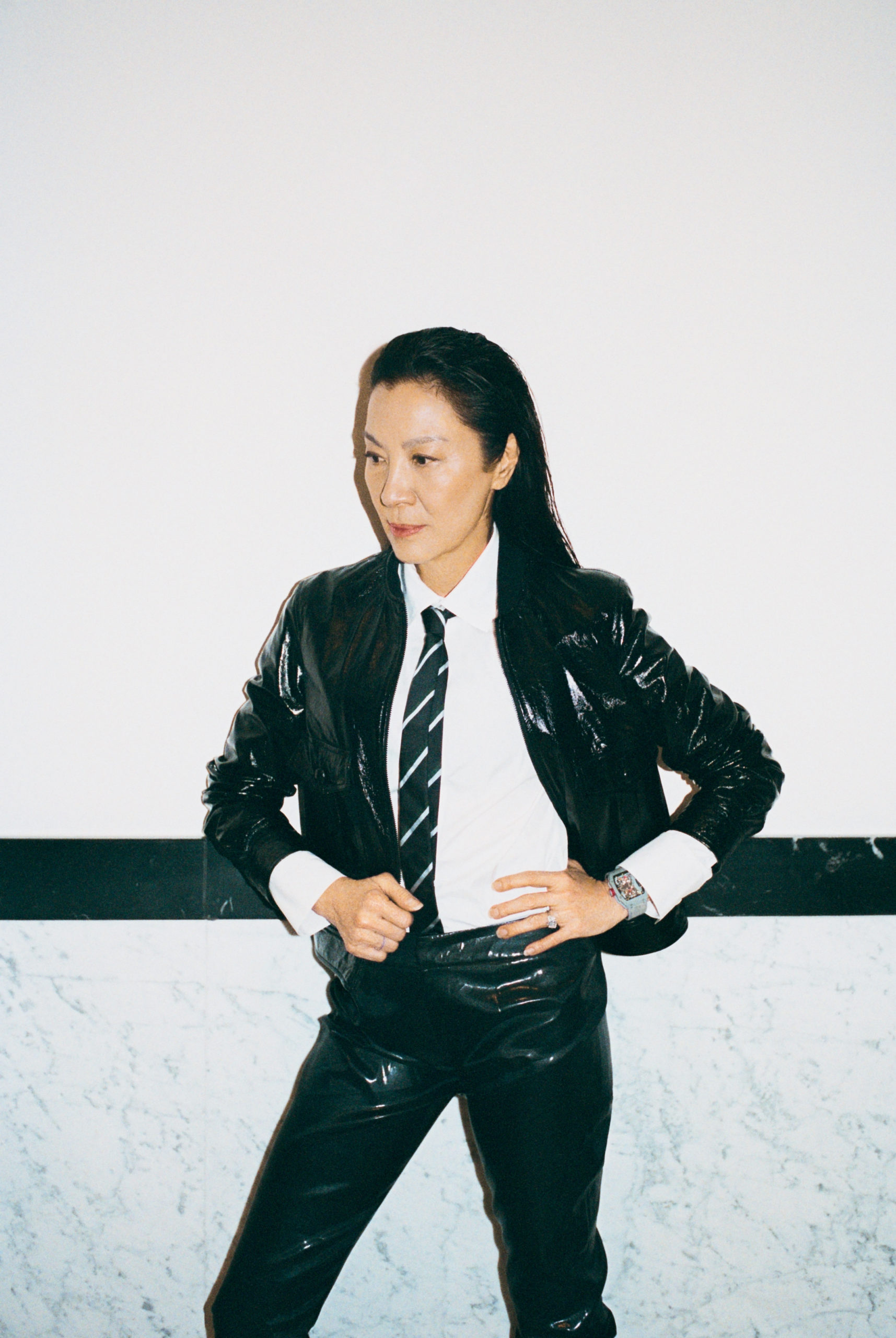 But if money were REALLY no object, I'd get a Richard Mille, perhaps this blue matte Rafael Nadal edition à la Michelle Yeoh (shot here for Interview Magazine by Nadine Fraczkowski).