Dream Watch:
The Rolex 'Presidential'
By Chieff Bosompra
"Dream Watch" is an essay series in which different contributors dive into the watch of their dreams. This is the first installment.

︎
It's in a black man's soul to rock that gold / Spend his whole life trying to get that ice
– The artist formerly known as Kanye West
This a Rollie, not a stopwatch / Shit don't ever stop
– Drake
Born in Ghana, West Africa – located in what is known as Africa's "Gold Coast," thanks to its vast amount of gold deposits – I grew up seeing elders adorned in traditional gold jewelry for ceremonies and other special occasions. This display was often to shed light on the status and importance of the individual, who was usually a tribe leader. It showed others that they had made it, cracked the code, broken out of poverty. These gold possessions were their trophies, symbolizing their accomplishments.
Fast forward some years, and I moved to North America, where I was introduced to hip-hop culture and a more Americanized perspective of what it meant to be Black and successful. In many of the raps I would listen to – be it Jay-Z, Nas, 50 Cent or Cash Money – the idea of overcoming the handicap that life's prejudice had placed on Black people was very prevalent.
Anyone who's familiar with hip-hop and Black American culture knows that risking your freedom to acquire capital, in an effort to make it out of your hood, is a common theme. Once you have made it out of these predicaments, the next logical step is often to buy a gold watch as a testament to this achievement. Just as the tribal elders in Ghana showcase their gold chains, a gold Rolex watch says
I've made it.
Consciously or not, the importance of gold and the flaunting of jewelry made it from those in Africa to North America; and while some cultures might regard a gold Rolex as too flashy, I grew up idolizing it. I'd watch music videos and see my favorite artists showing it off in celebration of the incredible odds they overcame to get on my television screen. Even at a young age, I knew I wanted a Rolex 'Presidential' Day-Date.
But long before I was a kid watching Jay-Z on MTV, the now iconic watch was getting its nickname. In 1956, Rolex unveiled a timepiece that could simultaneously display the day and date on the dial. Hence, "Day-Date". This flagship watch – a step up from the Datejust, which revealed only the date and came on a Jubilee bracelet – was available exclusively in precious metal (gold or platinum) and came with a new, three-piece link bracelet design, which, with time, came to be known as the 'President' bracelet.
Although Rolex had already been aligning itself with masters of the universe, gifting Datejusts to people like Winston Churchill and Dwight D. Eisenhower, it wasn't until Lyndon B. Johnson wore his Day-Date that the watch became head of state. On November 22, 1963 – the day of John F. Kennedy Jr.'s assassination – Johnson was sworn in as the 36th president of the United States, and his watch of choice was the 18K gold Day-Date. Coincidentally, Marilyn Monroe gifted JFK with a gold Day-Date in 1962, inscribed with the message "JACK With Love as always from MARILYN." Ever discreet, Kennedy allegedly ordered his aide to "get rid of it."
Unscathed by scandal and prominently placed on LBJ's prestigious wrist, the Day-Date became known as "The Presidential Watch" as officially dubbed by Rolex in a 1966 ad. It is unclear whether or not the term 'President' was used to connote the bracelet or the watch itself, but semantics aside, the nickname stuck and the watch went on to claim wrist real estate on mostly rich, white men. Warren Buffet bought his sometime near the late '80s and still wears it today.
Whereas Rolex prefers this type of clientele, I've always rooted for the underdogs. The Robin Hoods, the Tony Sopranos, those who dared to dream for more and took what they could. Soprano, by the way, was rarely seen without his Rolex Presidential – a styling choice that the esteemed Swiss brand probably isn't too hot for. But whether your money is "clean" or dirty, it represents power and success. It's a symbol so striking that it doesn't need to be messed with. In 2017, rapper A$AP Ferg released "Plain Jane", an ode to his uncustomized timepiece:
Ferg is the name, Ben Baller did the chain / Tourneau for the watch, presi Plain Jane.
A few years earlier, just as Ferg was getting his start, I was in my early 20s and newly graduated from university. My curiosity and knowledge about watches was widening. Jay-Z had dropped
Watch the Throne
with Kanye West, infectiously bragging
Ball so hard got a broke clock / Rollies that don't tick-tock.
I was starting to dip my toes in the watch game, learning from my idols and friends.
One of those friends educated me on the history of Tudor and how it's a sister brand to Rolex. He showed me a vintage reference and, flipping over the 36mm Day-Date-like Tudor, I saw it inscribed to say "Made By Rolex." Various music videos, "day in the life" blogs and movie scenes flashed through my head.
Sheesh,
I thought to myself,
I am technically about to cop my first Rolex.
At the time, it was worth about $1500, but we're best friends, so he gave me a great deal. I bought it. Owning my first vintage Tudor "Made by Rolex" pushed my curiosity even further. Now it's 2023 and I'm 32. I've enjoyed my Vintage Tudor for almost a decade, and all I can think about is my next upgrade. I want a vintage gold Presidential Rolex.
Like those before me, it will be a sign of my success. As an entrepreneur with my hands in a number of projects, I don't want to get one too prematurely. But the thought of owning the 'President' motivates me constantly in a way that cuts deeper than sheer materialism.
Came from high-risk hazards, you know, Pyrex glasses / A long way to the Presi' from the Timex Classic
raps Benny the Butcher. Luckily, I didn't have to deal with Pyrex glasses, but I have my own obstacles to overcome. A few more good deals and I, too, will have my gold trophy to showcase my accomplishments like the hip-hop artists and tribal leaders before me. I might get it inscribed to say
With love from the Gold Coast.
Jay-Z wearing a Day-Date in a portrait taken at the Roc-A-Fella Records offices on June, 10, 1996 in New York City. (Photo by Al Pereira/Getty Images/Michael Ochs Archives)
A 1966 Rolex ad, tracking the first official moment that "President" appeared alongside the Day-Date.
A photo of Ghana's first Prime Minister and President, Francis Kwame Nkrumah. He famously led the Gold Coast to independence from Britain in 1957. Wearing a Rolex.
US president Lyndon B. Johnson in 1968, wearing the Day-Date he made Presidential. (Photo by Consolidated News Pictures/Getty Images)
Tupac Shakur photographed for
Details Magazine
in 1996, appearing to be wearing two Presidential Rolexes. (Photo by David LaChapelle/Contour RA by Getty Images)
Billionaire Warren Buffett wearing his Prezzy in 2001 (photo by Gabe Palacio/ImageDirect)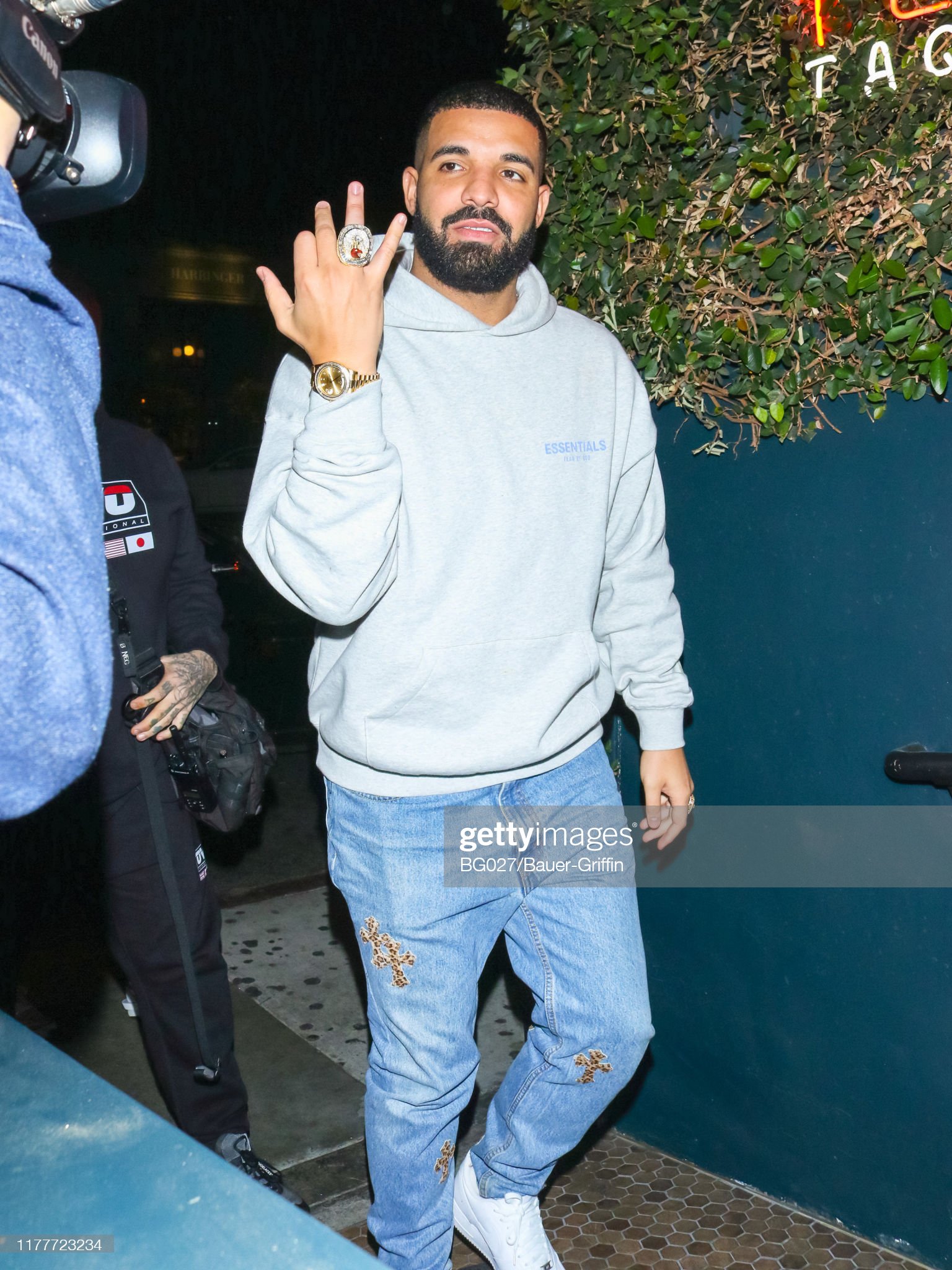 Drake in 2019 with his Rolex. (Bauer-Griffin/Getty)
James Gandolfini as Tony Soprano styled in a Rolex Day-Date for
The Sopranos
.
Rihanna and ASAP Rocky spotted in LA, Presidential on her wrist. (Photo by thecelebrityfinder/Bauer-Griffin/GC Images)