Four Iconic Watches to Know if You're Considering Investing
By Brynn Wallner, originally published in
Harper's Bazaar
APRIL 2021
If you find yourself somewhere in the clueless-but-interested realm of watch world, keep reading, honey. I'm here to dish about all the timepieces you oughta know if you're looking for your first purchase, eyeing to expand your collection, or just want to learn about what makes the best of the best
tick
. Read: There is no such thing as a stupid question.
Never bought a watch before? It's good to be inquisitive, do your research, and learn about the watch's history to see what suits you. Think big picture! To make your life easier, I've done some of the leg work for you, breaking down everything you need to know about four of the most popular watches out there: the Rolex Datejust, Cartier Tank, Rolex Daytona, and Patek Philippe Nautilus. They're all great for different reasons. How so? Read on.
The All Day, Every Day: Rolex Datejust
If you're completely new to watches (welcome, sis!), close your eyes and picture the first one that comes to mind. Chances are, it's a Rolex Datejust. Which makes sense since the best-selling (highest volume) Rolex of all time is the 29mm Lady Datejust. In 1945, the Datejust was created in Geneva to commemorate the company's 40th anniversary. What, exactly, was so special about this watch? Its automatically changing date window (get it? DATEjust). We may take this feature for granted now, but it was big time for the '40s! Revolutionary tech! Personally, I'm not wearing a Datejust right now, so I have no idea what day it is.
The Datejust is housed in Rolex's innovative, waterproof Oyster case, and it's held on the wrist with a multi-link Jubilee bracelet. In the beginning, the Datejust was available only in gold (rich!), but over time, Rolex released countless variations. Steel, two-tone, rose gold. Iced-out bezels, iced-out dials, iced-out everything. Any dial color under the sun: lapis, Tiffany blue, salmon. Its versatility and openness to customization is part of the reason why it's overcome with such popularity.
Hodinkee advisor Cara Barrett tells me that she stans the Datejust. "To me, it is the perfect watch," she declares. "If anyone ever asks me what watch they should buy, I suggest the Datejust 99 percent of the time. It's clean, classic, can be dressed up, dressed down, and it will last for-literally-ever." She cites the variety as another one of its must-buy factors. "You can really find the one that speaks to you and never look back."
Simply put, the Datejust is a good starter watch, and not in a condescending way. It's here for a good time
and
a long time. In 2018, DJ and creative entrepreneur Amrit Sidhu bought a Datejust for herself to commemorate all that she'd accomplished. When asked if she'd always wanted a watch in a recent
DIMEPIECE interview
, she recalled her humble upbringings. "I came from a frugal household – we didn't have luxury items growing up. I had the Payless version of the Nike sneakers. I went back and forth on buying the watch so many times because the only things I've ever spent money like that on are purses." Because this was her first luxury timepiece purchase, it makes sense that she landed on a Datejust. Tried and true.
If you're Sopranos-obsessed like
moi,
you'll notice that Carmela wears a two-tone Lady Datejust alongside her French tips (Christopher also wears a Datejust). Hailey Bieber wears a gold version with a diamond bezel and dial. Rihanna, Zendaya, Jennifer Aniston, Selena Gomez, Lindsay Lohan—I mean, the list goes on. These are all very different women who wear very different versions of the piece, and make it their own. Searching for a sign to purchase one of your own? This is it.
The Certified Classic: Cartier Tank
She's beauty, and she's grace: She's the Cartier Tank. Famously placed on the wrists of the most glamorous, the most regal, the most
elegant
of women, the Tank actually has a more masculine origin story. According to company lore, the watch design was inspired by a WW1 tank (streams
1917
once). Whatever the true story may be, the branding worked, and the Tank earned early notoriety as an accessory to generals and 1920s movie stars.
Fast-forward to 1963—months before JFK's assassination—Jackie Kennedy was gifted a Tank by her brother-in-law, Prince Stanislaw "Stas" Radziwill. The 18-karat gold case, the black lizard strap, the personal engraving from Stas on the back … it gives me butterflies just thinking about it. And you know who else was enthralled by it? Kim Kardashian, who secretly bought it for
$379,500 at auction via Christie's
. She subsequently wore it to a 2018 meeting with former president Donald Trump because it reportedly "gave her power." Powerful indeed: That very meeting resulted in the president granting clemency to prison reform advocate
Alice Marie Johnson
.
But I'm getting ahead of myself. Andy Warhol wore the Tank, "not to tell the time," he once
said
. "In fact, I never wind it. I wear a Tank watch because it's the watch to wear." If you ask me,
that
is peak glamour—besides, what is time, anyway? What is 15 minutes of fame? Princess Diana wore the Tank Louis Cartier, and one of its many variations, an all-gold Tank Française, which has allegedly been passed down to Meghan, Duchess of Sussex. And even before Meghan joined (and subsequently left) the royal family, she gifted herself a two-tone Tank Française upon learning that
Suits
had landed a third season, engraved with "To MM from MM." Lady Di and Meghan truly embody the spirit of the watch: resiliency, timelessness, and history. Who else wore it? Well, at this point, it's more than 100 years old, love—who
hasn't
worn it? Truman Capote, Fred Astaire, Clark Gable. Icons only.
The watch itself is both dressy and casual, depending on how you rock it. Recently, I've seen it teamed with pieces from Emily Oberg's lifestyle and activewear brand Sporty & Rich.
Sweatpants styled with a Tank
is
the
definition of Sporty & Rich, in case you were wondering. Oberg even
placed it on a model's ankle
for one of her campaign shots, inspired by the party scene in
Breakfast at Tiffany's
. It's that license to quirk that makes the timepiece so charming. Oh, and remember Gwyneth Paltrow and her Panthère days? Now, Paltrow has seemed to have graduated to the
leather-strapped Tank
. It's a more mature option.
The Humble King: Rolex Daytona
Mamma mia, the Rolex Daytona: Where do I even begin? According to
Kareem Rashed
—with whom I worked at Sotheby's to create a written series of select GOAT watches—"Rolex is king" to many collectors, "and, among the brand's many coveted models, the Daytona is the king of kings." It's not overly complicated or intricate. In fact, when it debuted in the '60s, it was kind of a flop. But look at it now; consistently sought-after and obsessed over, with one model sold at Sotheby's auction for a record-breaking
$1.5 million
this past summer. But $1.5 million is cheap compared to the
$17.8 million
that was spent on the legendary grail that is the Paul Newman Rolex Daytona. For all you Zoomers out there reading this, Paul Newman is not just the handsome face of Newman's Own salad dressings and canned soups—he was a certified iconic actor, and Rolex has him to thank for the Daytona's zero-to-hero cult status.
But, back to the Daytona's flop era. When the first iteration of the watch hit the scene in the '60s, Rolex was hot, but it wasn't known for chronographs, a.k.a. watches equipped with a stopwatch function. Rather, Rolex was esteemed for its Oyster and Datejust models, worn every day by people who didn't quite have the need for a stopwatch on their wrist. But over time, Rolex forged associations and partnerships with the race car industry (the name Daytona appeared on the dial after the brand's partnership with the Daytona Speedway). And then came its big break: Legend has it that actress Joanne Woodward bought her husband, Paul Newman, a Daytona as a gift once he began devoting more time to the racetrack. (Side note: We
love
when a successful woman gifts her man a timepiece; such a power move.) Newman's lifelong association with the watch is to thank for its surge in notoriety, and, as mentioned, it's $17.8 million value.
Enough with the history lesson, though, and on to the good-good: women and their Daytonas. First, let's get something straight: The Daytona is not a small or dainty watch; in other words, it's not traditionally considered a "lady's" watch (
*yawn*
). Today, women are spotted wearing bigger watches all the time, but this was the result of a few trailblazers. Take supermodel Elle Macpherson, for example, who's been wearing her 40mm 18-karat gold Rolex Daytona for years now.
"I started wearing a Paul Newman Daytona in the '80s," Macpherson says. "I had never seen another woman wear a men's watch, but it suited me, because I'm six feet tall and sporty. From then on, I always wore a men's watch, and it became my trademark. Over the years, I've seen friends like Victoria Beckham join the club."
In addition to Beckham, mega stars like Sofia Vergara and Rosie Huntington-Whiteley wear Daytonas; and one of my all-time favorite photos features
Mary-Kate Olsen
leaning on her Daytona-decked arm (with a suspect can of whipped cream in her other hand). Now, we see the Daytona transcending generations, with 22-year-old singer
Madison Beer
frequently sporting it on shopping sprees at Reformation.
I spoke with Emily Oberg about the Daytona, and she loves it for its borrowed-from-the-boys quality. "To me, the Daytona is the perfect woman's watch," she says. "I love the chunky-ness of it—like you stole it from your incredibly chic husband who plays tennis on the weekends and takes you to Positano in August. Pair it with a Charvet button-down and denim, and you'll be the chicest person in the room."
Cara Barrett loves the watch for a different reason. "It makes me feel really powerful," she says. "I know it's cliché, but it reminds me of putting on a bossy blazer or pantsuit. It's heavy, historical, and it carries serious clout in the watch-collecting world. Plus, if you can get your hands on a steel one, count your lucky stars, because the wait list is
long
. I also love the rose gold version, that's serious goals."
Well, there you have it, folks: The Daytona is king—no ifs, ands, or …
but the watch is just too oversized for my wrist!
If you're a go-big-or-go-home kinda gal, this one's for you.
The Mold Breaker: Patek Philippe Nautilus
Ah, the Patek Philippe Nautilus. Even if you're a watch outsider, this name may sound oddly familiar, because Patek Philippe recently broke the news that it'd be discontinuing its highly coveted 5711/1A-010 model (stainless steel, blue dial … blue face, baby!). Have you ever seen a man cry (I pray to god you have)? Have you ever seen a man cry over a watch?? Look no further than
this video
of
Shark Tank
judge and multimillionaire Kevin O'Leary's reaction upon getting his hands on his own Nautilus 5711. No, it wasn't a gift from a beloved family member. It wasn't a sentimental family heirloom. So why the tears? The wait list for this particular Nautilus was more than 10 years long. That's a decade O'Leary's been waiting for one watch. A whole decade!
Yes, this watch is a certified grail—but why? Like the Daytona, it's not overly complicated. The Nautilus is celebrated mainly for its
looks,
darling, it's design. In the 1970s, a slumping economy pushed the watch industry in a direction of making affordable steel and quartz models. This left Patek Philippe, known for its most exquisitely rendered timepieces, in a bind. Against the economical context of the time, the brand's offerings seemed rather gauche. Then in 1974, the brand crossed paths with legendary watch designer GG (Gerald Genta, the Audemars Piguet Royal Oak designer... not Gigi). As the tale will have it, GG (I think I'm the only person who calls him that), scribbled the Nautilus design for a bunch of Patek execs on a lunch napkin. That five-minute sketch changed the game forever. What resulted was a nautically inspired, sexy alternative to the everyday steel watch. Expensive too! Patek Philippe touted it as, "One of the world's costliest watches is made of steel." I have to laugh.
In the '80s, a women's model was introduced, marked by
gently
waving lines on the dial rather than the men's tailored stripe. But I personally love the
two-tone Nautilus 3900
. When I asked,
Zoe Abelson
, senior client advisor at WatchBox, about the Nautilus, she said she appreciates how the watch acts as a signifier for the ladies, in particular. "A woman who wears a Nautilus is undeniably someone who knows a thing or two about watches … and she knows what's
en vogue.
It's safe to assume she has some other impressive watches up her sleeve." In other words? A woman with a Nautilus knows what's up.
Cardi B bought herself an iced-out, 40mm Nautilus that she flashes around in this
unforgettable video
. "A hundred thou on my wrist, bitch. I'ma show this shit off till the day I
die
. Donald Trump is our president, our land might depreciate, our
schmoney
might depreciate, but this right here? I could sell it anywhere, anytime, and open, like, 10 salons, bitch. I'm so proud of myself," she says in the clip. (I transcribed that quote from heart, I've watched the video so many times.) It's truly a testament to the hard work Cardi has put into her life and career. She has a right to brag.
Other women in the Nautilus club? Rihanna has a rose gold one that looks just as incredible paired with couture as it does with an all-gray sweatpants airport look. Victoria Beckham is another Nautilus head, owning the now-legendary 5711, as well as an 18-karat gold 3800 with a black dial. All the pieces I mentioned above are "men's watches," by the way, but they happen to look incredible on women.
In short, if you're looking to make a statement, the Nautilus may be your match.
Danielle Prescod
and her Rolex Datejust, shot by Scarlet Raven.
Yours truly
in my Cartier Tank Française, an updated the legacy of the Tank wristwatch with a chain-link bracelet, shot by Cobey Arner.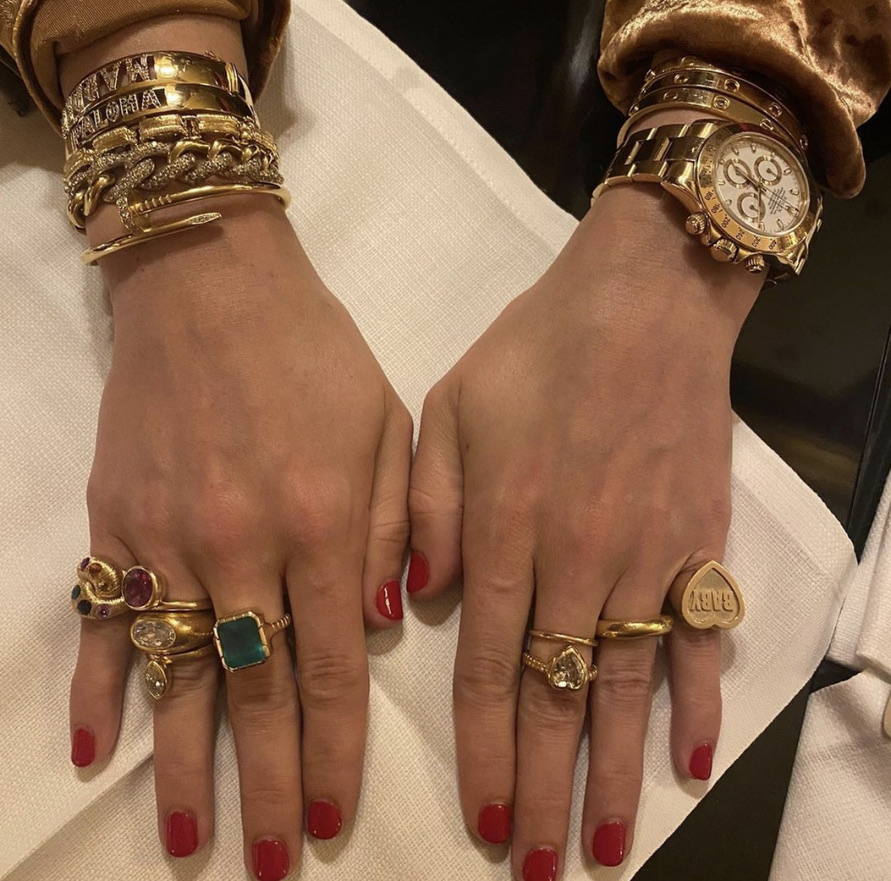 Madison Beer (top photo) in LA wearing a Rolex Daytona (Getty) / Next photo is of a full stack featuring a Daytona, shot by Miranda Levitt.
JJ Owens
and her tiny two tone Patek Philippe Nautilus, shot by Cobey Arner.