What happens in Vegas...
By Emily Sundberg
This is an essay by writer, producer and watch newbie Emily Sundberg, recounting the blur that is 48 hours in Las Vegas. As a Dimepiece correspondent and a guest of Bucherer, Emily got to try on more watches than she'd ever seen in her life against a grandiose setting of the Swiss brand's flagship boutique – their newly renovated TimeDome. Founded in 1888, Bucherer is still family owned, offering a range of watches from classic brands like Cartier and Rolex, but also 'Masterworks' from the likes of Jacob & Co. and H. Moser. I wish I got to go, but Emily went in my place, and you can read about her adventure.

︎
We couldn't stop talking about time in Las Vegas – how quick the trip was, the fact that the smoky champagne-stained rooms didn't allow any sunlight in so we never knew what time it was, how long people spent at the tables throwing down card after card, and, of course the watches.
Bucherer, a Swiss brand that, since 2018, also owns and operates Tourneau, invited me to come and play dress-up at their newly revamped flagship. The renovation of the Las Vegas boutique took more than a year and a half, undergoing a complete redesign of the space. Yes, the store has watches and diamonds and tiny squares of chocolates with Bucherer logos on them, but I was particularly amazed by the art collection which made the store feel purposeful for watch lovers and art lovers alike (Warhol, David La Chapelle, Damien Hirst and KAWS, which total to a multimillion dollar value). The boutique was a cool, sparkling wonderland to explore outside of the kitsch of the casinos.
"There are a lot of places to go to in Las Vegas to buy things, but we wanted a destination location that people could visit," Ira Melnitsky, chief executive of Tourneau LLC and president of Bucherer USA said. In 2005, the former design made the Guinness Book of Records as the largest retail watch store in the world – a title they're working to win again. Clocking in at 18,848 square feet, the new flagship is 1,000 square feet larger than it was before the renovation. They've got this in the bag.
︎
Everyone talks about luck and lights and cash in Vegas, but I think we should add time as a core theme. Sin City is an oasis shapeshifting as the decades roll by, satisfying the in-flux fantasies and ideals of the moment, its undercurrent of excess the only thing remaining static. The TimeDome is certainly excessive in its size and sheer offering, but it stood as a beacon of considered, timeless luxury insulated from the hypnotic sounds of the slot machines.
Suited guards stood at the door, reminding visitors of the expensive (if not priceless) one-of-a-kind items inside. Tiny silver dishes of nuts and flutes of champagne awaited those who were shopping. And most prominently was the feeling of the possibility of getting lost beneath the dreamy, spiraling staircase which brought you higher above the glass cases. The only thing tracking the time for me as I tried on 6-figure watches were the hushed, constant ticking of their seconds hands.
I'm not an expert, but I understand the cultural cache of watches right now. I understand how publications have pivoted significant energy into covering the industry. And it makes a lot of sense to me why Bucherer would open such a massive, glorious store in Vegas (the largest watch and jewelry showroom in America, by the way). If I came off a poker table with a fat stack of cash, the first thing I'd think about would be how to deck out my wrist for the next game, a warning sign to onlookers.
We didn't just try on watches within the glassy walls of the store. A helicopter ride (one of my biggest fears) showed me how diamonds and steel glitter over the sparkling lights of the Las Vegas strip and the burnt orange Aztec Sandstone of the Valley of Fire. The setting Nevada sun gave me a new appreciation for the earth's stones and elements.
Back on the Strip, I felt the weight of my Omega (borrowed, for one night only) guide my chopsticks towards tuna, salmon, bowls of rice. It sparkled in the dim lights of WAKUDA – a slice of Tokyo in the desert – and felt like an anchor. I'm here.
I've never worn a watch before, but in a place that already felt like a fever dream, the timepiece served to ground me. A reminder that Vegas is just a 48-hour dream trip and that the diamonds wouldn't be coming home with me. What happens in Vegas…
Vintage photo of Caesars Palace, where the Bucherer flagship "TimeDome" is located.
The flagships's facade, flanked by marble columns fit for ancient Rome.
Trying on an insane sapphire-set H. Moser tourbillon, offered as a part of Bucherer's 'Masterworks' collection.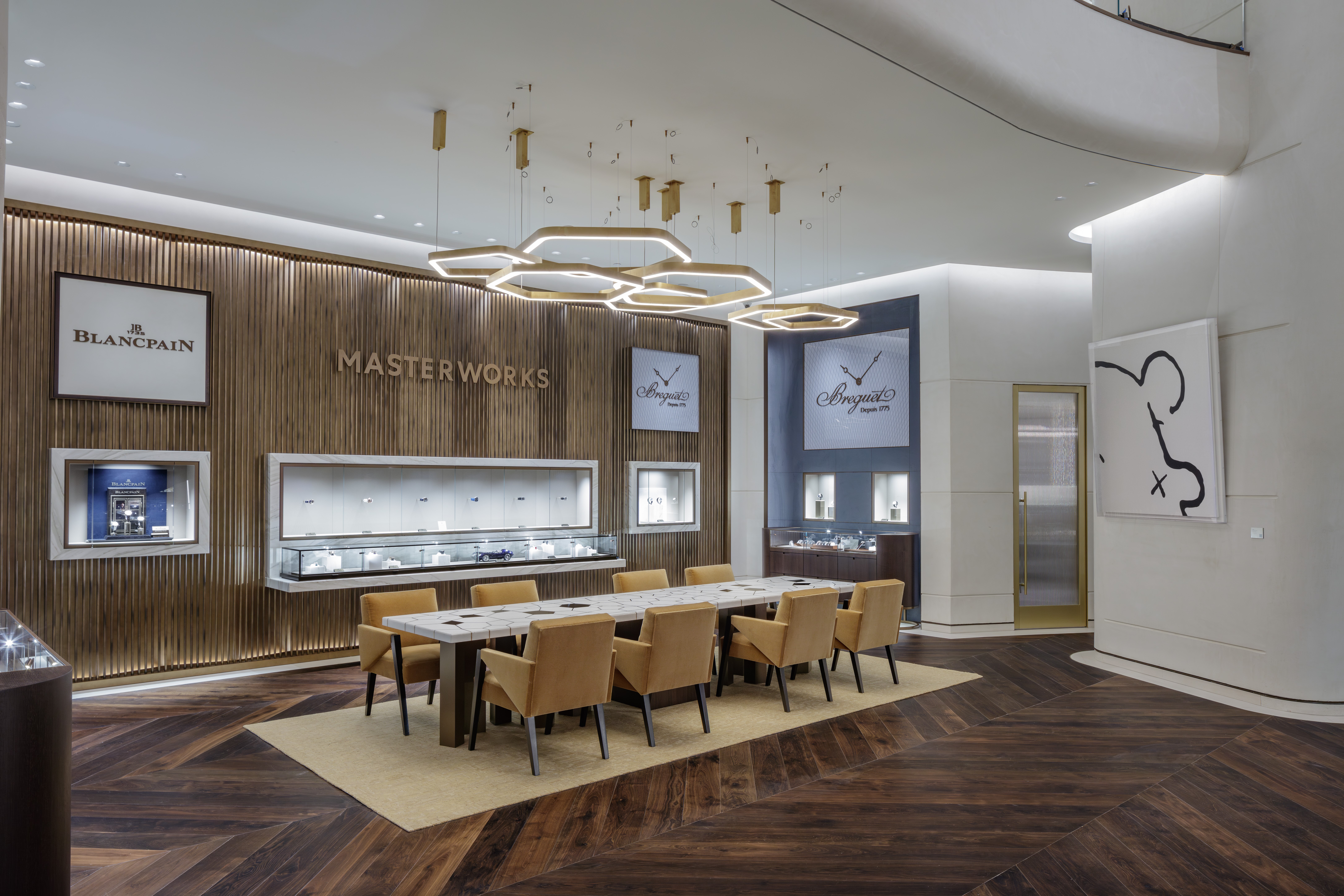 KAWS spotted in the Masterworks corner.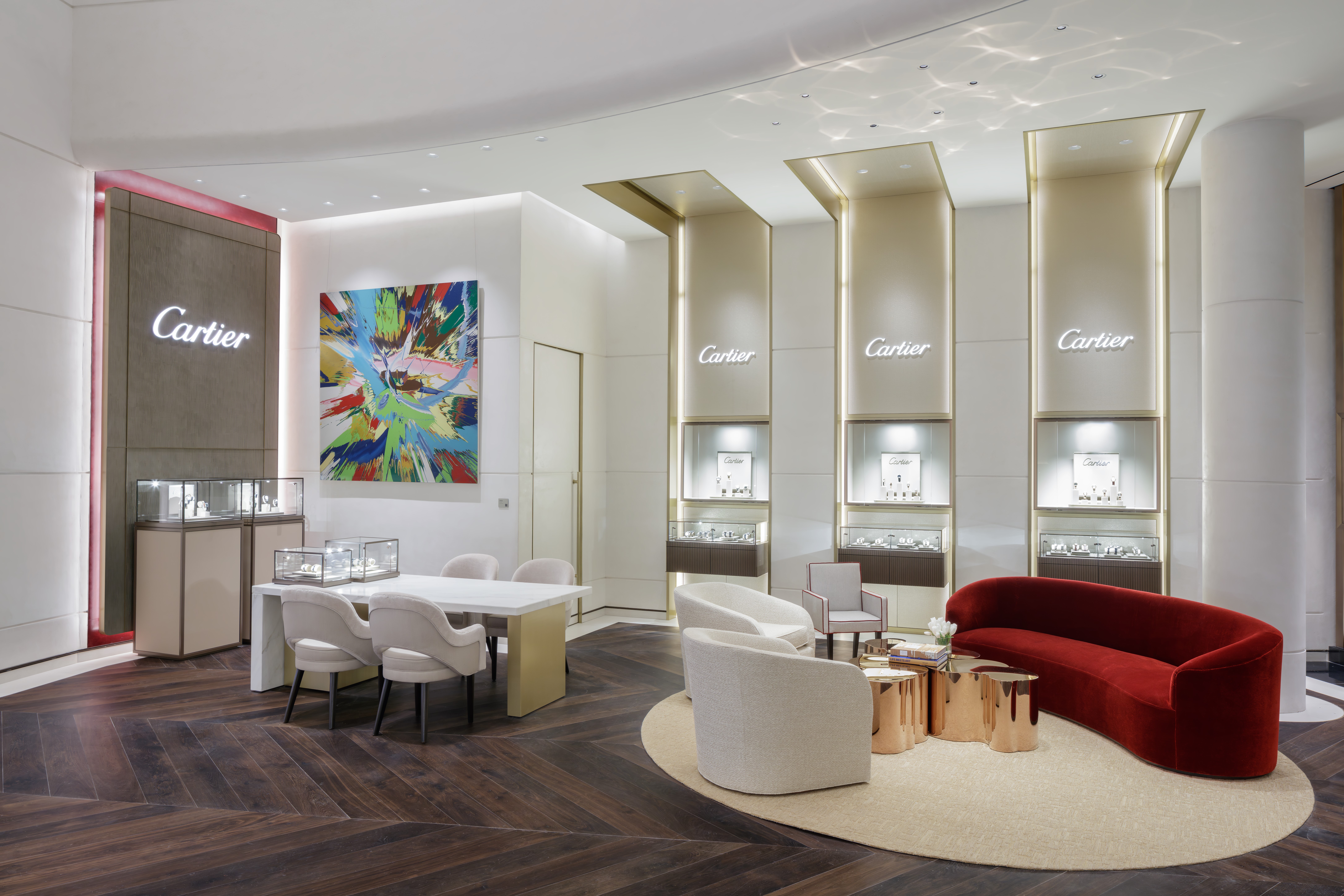 Bury me in the "Cartier Lounge."


A very Vegas image: Anna Nicole Smith dripping in Diamonds at the Caesars Palace of yore, 1994 (my birth year). Photo by Neil Leifer via Getty Images.
We got our own chance to drip in gems, complements of Bucherer fine jewelry.



A y2k Vegas moment, also from Caesars Palace: When Jessica Simpson gifted her sister, Ashlee, a Chrome Hearts Rolex. I didn't get gifted a Rolex on this trip, but...


... I did get to try on this bonkers Godfather watch by Jacob & Co.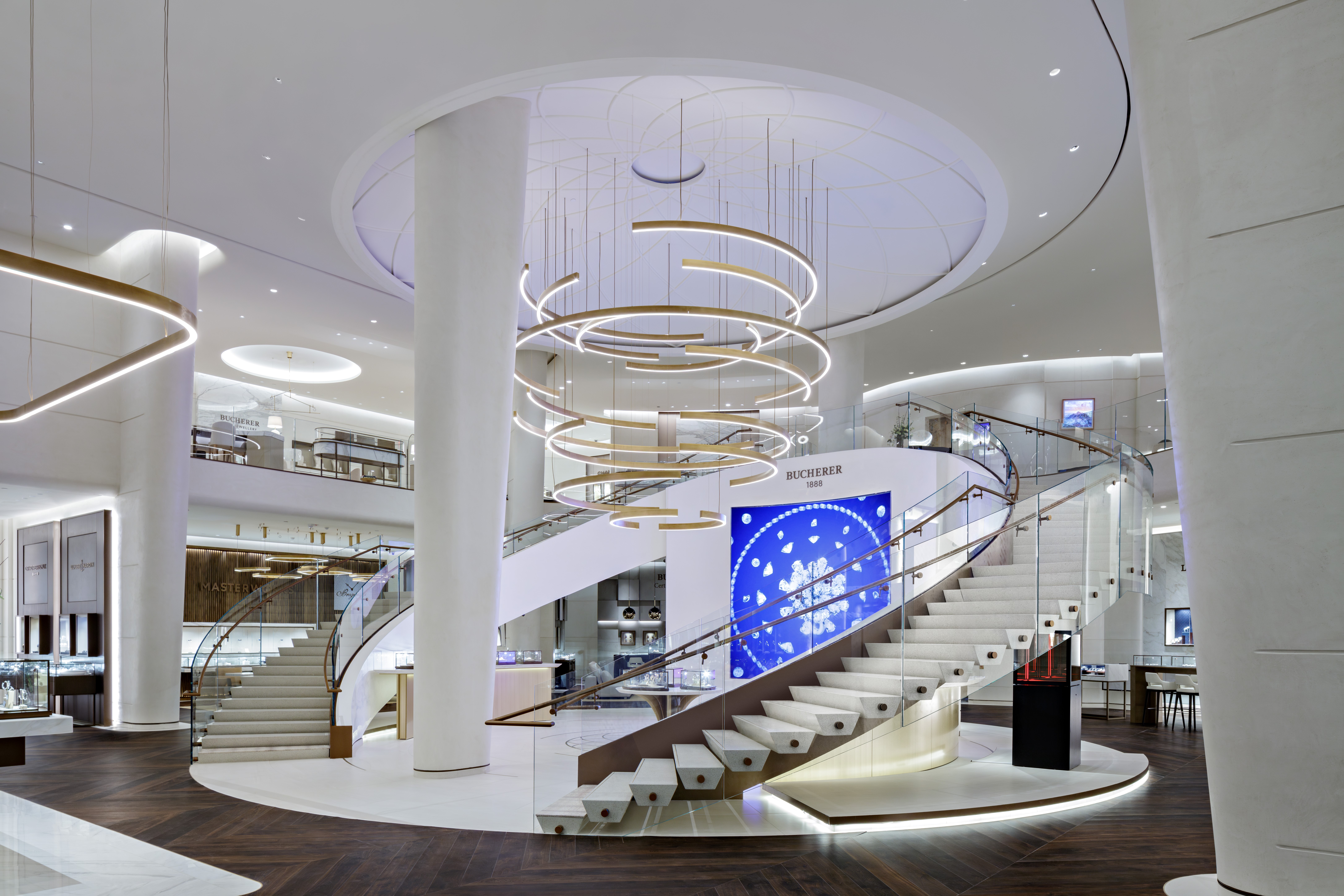 The hypnotic dome, from whence TimeDome gets its name.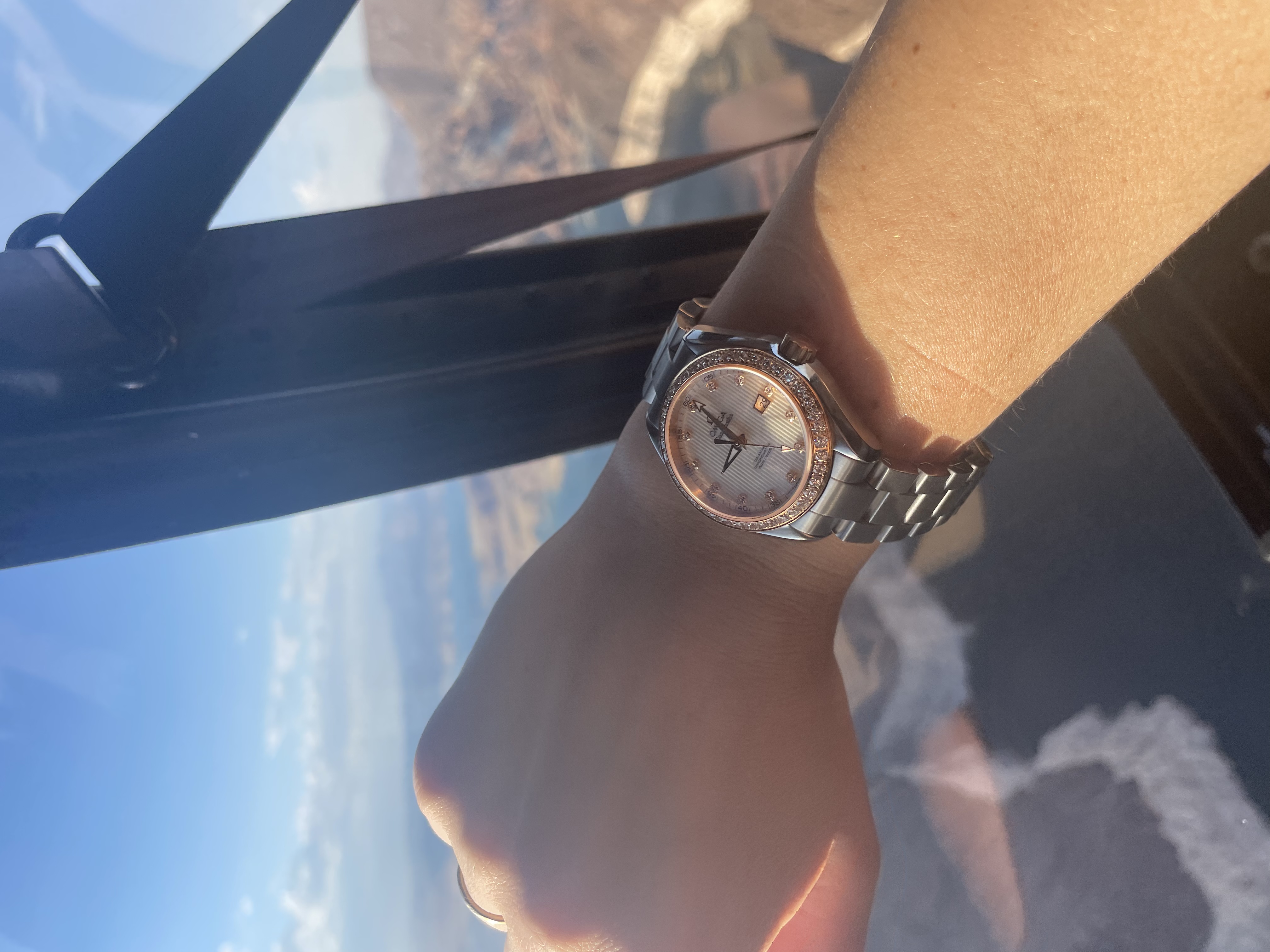 Overcoming my fear of helicopter rides with an Omega Speedmaster.
An aerial shot of '90s Vegas. Our helicopter view was slightly livelier as the strip's been developed.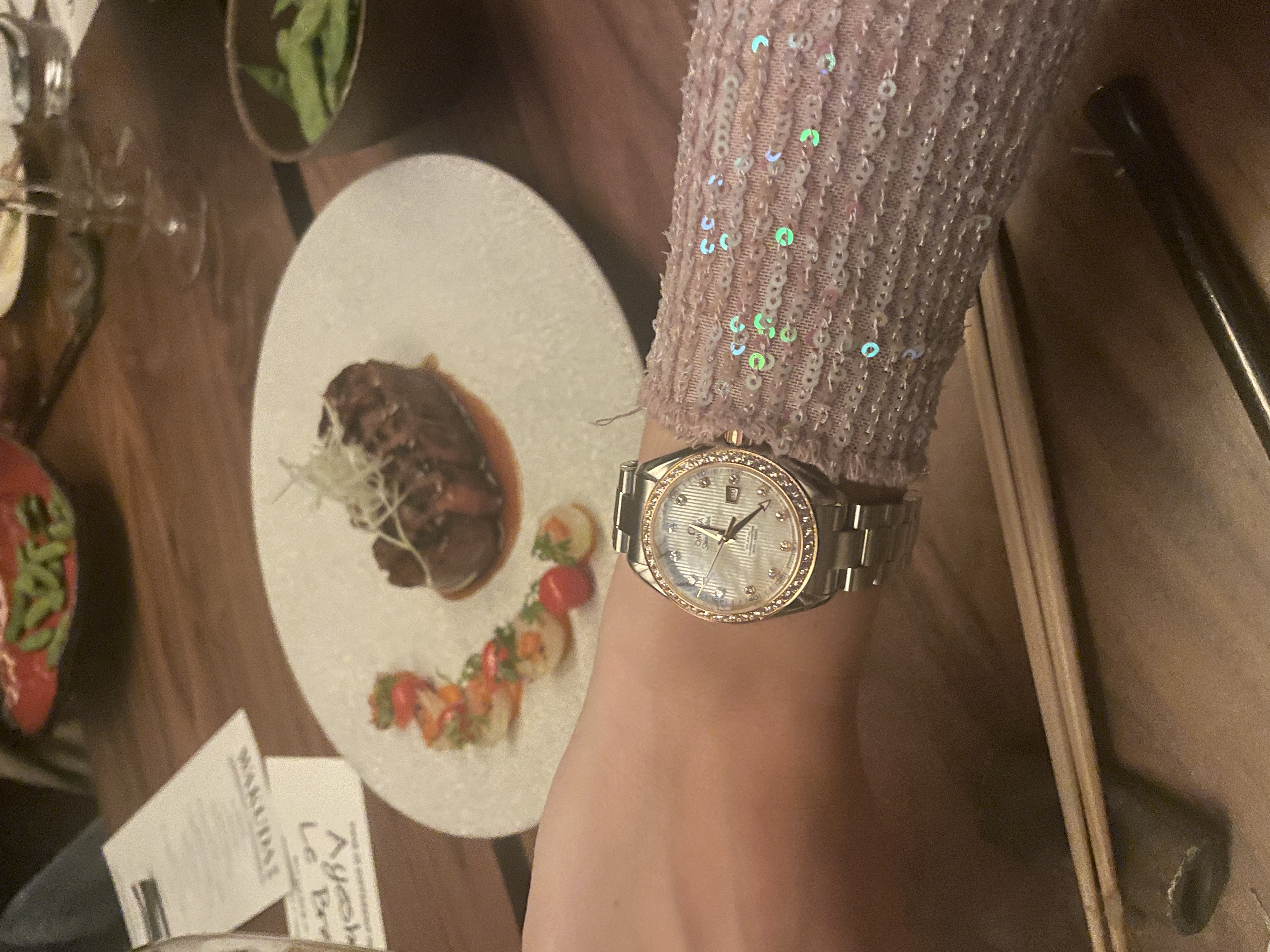 Fancy dinner at WAKUDA in my "just for the night" Omega Speedmaster.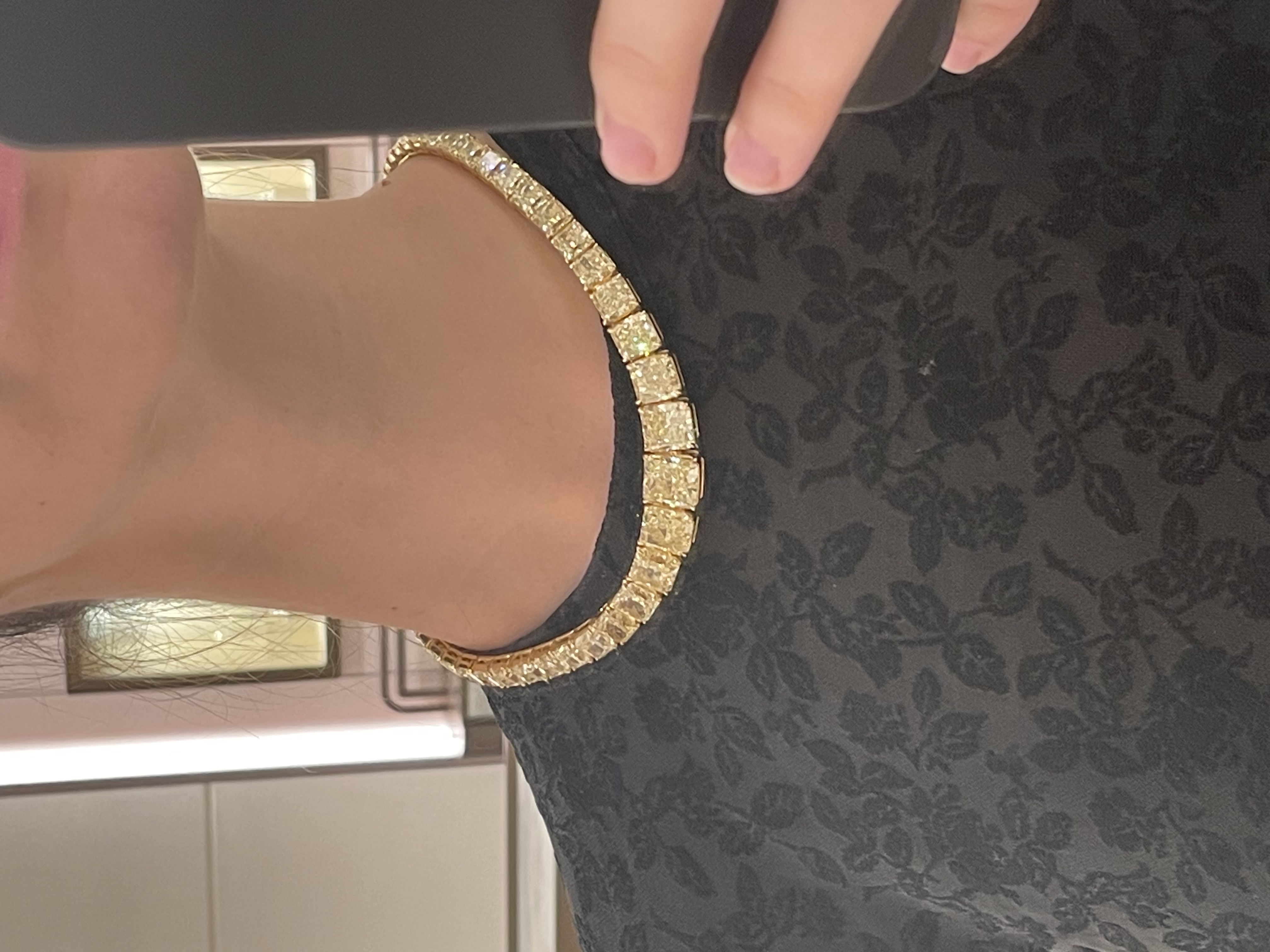 Diamonds are forever, but my trip in Vegas lasted only 48 hours.