The Bad Bunny Watch Watch
By Brynn Wallner
JANUARY 2023
Bad Bunny's vintage Patek Philippe collection* is captivating. We saw him wearing a ladies' Ellipse (ref. 4931) for the June 2022
GQ
cover story shot by Roe Ethridge. This was not the decision of an editorial stylist up on the latest in men's fashion… The credits read: "Watch, his own." Then, we saw him this past weekend courtside at the Lakers game accessorizing his hooded visage with a diamond and sapphire set Patek (potentially ref. 3995). Did he pick these out himself? Where did he buy them? What draws him to these particular references? These are questions I'd ask if his stylist would respond to my email.
I reached out to his stylist, incidentally, because it seemed a more likely entrypoint into the Bad Bunny universe. (Bunny's private Instagram account has 44.6M followers, and he's the second most streamed artist on Spotify, after Drake, with 49,331,188,814 streams.) His stylist is
Storm Pablo
(aka
La Tormenta),
and the two have a sartorial chemistry that generates true dialogue after a look surfaces. Some outfits come and go. But when Bad Bunny, in a look styled by Pablo, steps onto a red carpet… We talk about it. We dissect it. The look transcends the moment and sets the trend.
According to various interviews I've read, Storm Pablo, 31, was born in Guam and moved to the US at age 11, hopping from the midwest to Alaska, settling in Seattle (where he still lives today). He grew up on MTV and cites Kurt Cobain and Dennis Rodman as inspiration for what he contemporarily pulls for Bad Bunny, who he started styling in 2019.
Prior to this, Bad Bunny – born Benito Antonio Martinez Ocasio in 1994 Puerto Rico – had an aesthetic that could be described as loud and icy. Colorful, ornately embroidered satin blazers… big Rolexes customized with aftermarket diamonds. Scroll through images tagged "Bad Bunny" chronologically on Getty and you notice a "vibe shift" after Storm took over styling. The blazers were replaced with hoodies and kilts. The iced out watches replaced by vintage Cartier and Patek.
"It was never about going to stores looking for the craziest thing I could find," Pablo told
El País
this past November. "That was not my goal. I was just tired of always seeing the same thing." The "same thing" in this context could extend to wrist candy. The same thing would have been the iced out Rollies or even the steel sport "hype" watches commanding the headlines.
These just wouldn't mesh Storm's vision, and considering his references (Cobain, Rodman), Bad Bunny's watches fall precisely in line. The '90s were an interesting time for clothing, in which minimalism was played with and gender was being bent (and men like Kurt Cobain performed irreverently in a sundress). You can read a million articles about this, and seeing any headline declaring "The '90s are back" feels like I'm beating my head against a wall.
But the conversation held within the context of the relatively trend-proof, air-tight watch world is compelling. The 1990s were a time of deep creativity on behalf of watch brands. I spoke with John Reardon, founder of
Collectability
and expert on vintage Patek Philippe, and he described the '90s as still partly a "non CAD-based design era." CAD is an acronym for computer assisted design, which is how most watches are created today; whereas, pre-CAD, watches were designed entirely by hand with sketches.
"With CAD, there was a fundamental shift from the way things used to be," explained Reardon. "Before, the designer came up with a concept and the watchmakers made it happen. With CAD, it's a design based within the restriction of what the available movements would allow. It's just a different philosophy."
CAD could explain why watch releases today are significantly larger than vintage models. It's algorithmically more logical to design a bigger watch because it allows for a more seamless fit of the movement. But, as I learned from Reardon back when I first started getting into watches, any timepiece over 35mm was once considered massive. So… it's not that it's impossible to fit movements into smaller cases; it's just easier and more cost effective not to. That, and the entire size spectrum has shifted since the "Panerai era" of the early 2000s, when big watches dominated the zeitgeist (and if you're not familiar with Panerai… let us conjure up the oversized Michael Kors watch trend).
CAD impacts experimentation in design, too. "I would make the argument that CAD design has held back some of the creativity that the industry had in the past," Reardon continued. "There's plenty of creativity out there now; but there are two ways of thinking: one, with a hand and a sketch and two, drawing with a computer."
'90s watches are by default more analog, in this regard, which is what younger generations seem to be pining for. It's why we shoot photos with 35mm film, it's why
wired headphones
are back, it's why… we wear watches. We have technology to avoid all of the above, but we go out of our way to grasp onto something that feels more real.
Reardon also explained to me that Gen Z, in particular, is approaching watch collecting with a different mindset. "People in their early 20s are buying aesthetically and very independently compared to millennials," he said. "Millennials seem to be very interested in what other people are buying. But I'm seeing younger buyers looking for something unique... It's a more story-driven experience."
Although Storm Pablo and Bad Bunny are not Gen Z, the looks they create together do follow a narrative. Everything is considered. Reference is essential. According to the
El País
feature, Pablo has a framed kilt on his wall, which Bad Bunny wore in the video for
Yo Perreo Sola
(2020). It serves as a reminder that styling is "an art form" and that, when they started working together, Bad Bunny was open to anything. "It was the first skirt we put on him. It was also the first time that I felt that, in the future, this would be how we would have to push the boundaries."
Of course, "gender neutral" dressing has been positioned as a "trend" by every single fashion media outlet in the past couple years. But what we're seeing with Bunny and Pablo is a testament to the power of an open heart, which is how Reardon describes the younger generation's approach to watch collecting. "It actually reminds me of collectors from the '90s," Reardon goes on to say. "When I started out selling, people bought what spoke to their heart."
In this sense, my excitement around Bad Bunny's Patek Philippe collection is not about the fact that he's wearing traditionally labeled "ladies" timepieces. It's not even because the '90s are back. It's that he's doing it with some heart.
*A collection, to me, is owning any more than one thing.
Bad Bunny
, courtside at the Lakers Game on January 20, 2023 wearing a Patek Philippe reference 3995 (we think). Source, Getty (per the watermark. I don't have a photo budget yet).
Thank you to the Getty photographer for the details shot.
The best match I could find online of the above watch in question (from a now-defunct link via Christie's).
Bad Bunny wearing his ladies Patek Philippe Ellipse for the June 2022
GQ cover story
. Shot by Roe Ethridge.
GQ
watermark hiding in the lower left corner.
A Patek Philippe Ellipse ref. 4931, similar to Bunny's above, currently sold by
The Real Real
.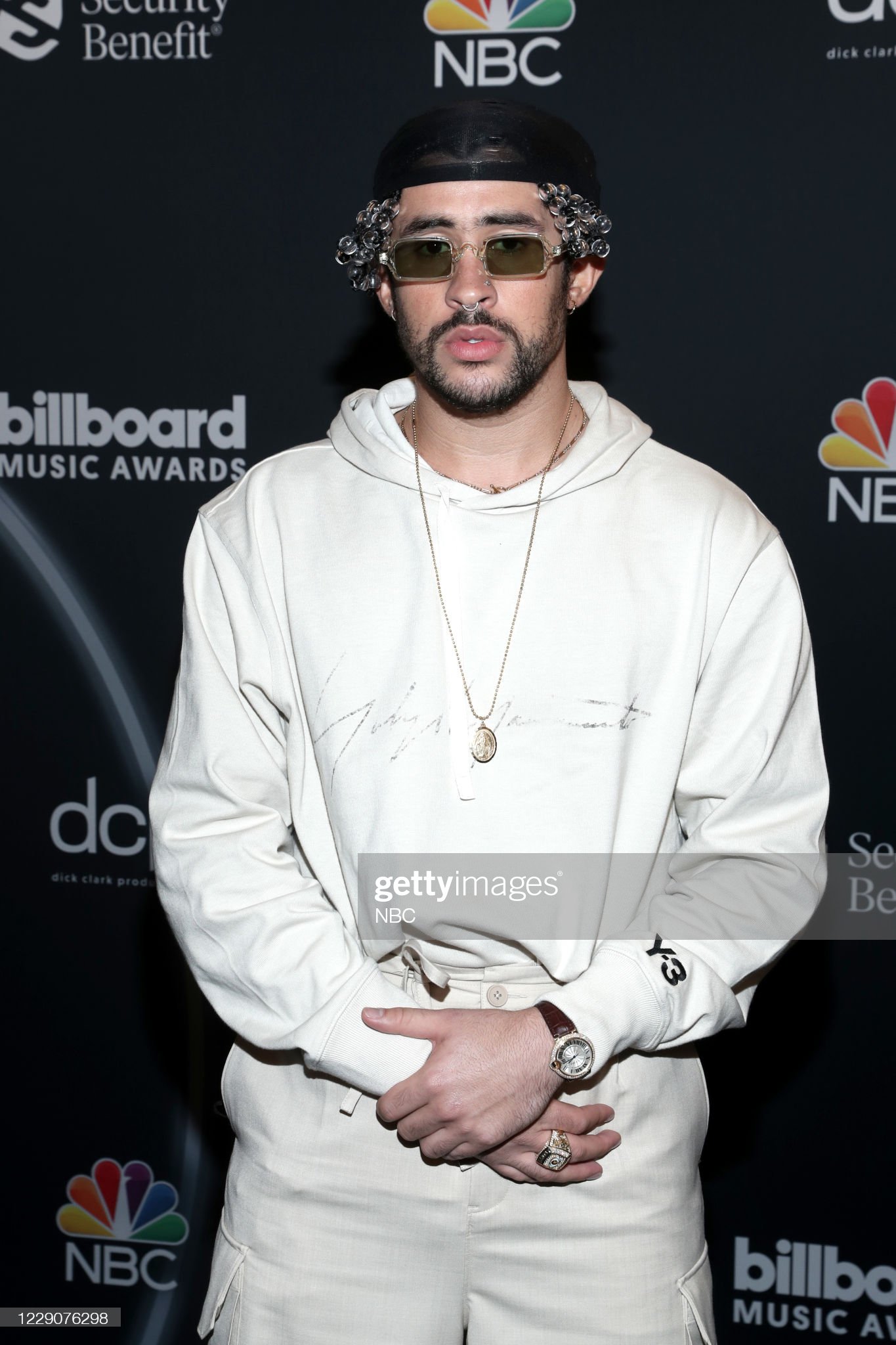 Bad Bunny attends the 2020 Billboard Music Awards, broadcast on October 14, 2020 (presumably styled by Storm Pablo, with the Cartier Ballon Bleu).
Bad Bunny's stylist,
Storm Pablo
, shot by Dan Balilty for
El País
. Image not my own!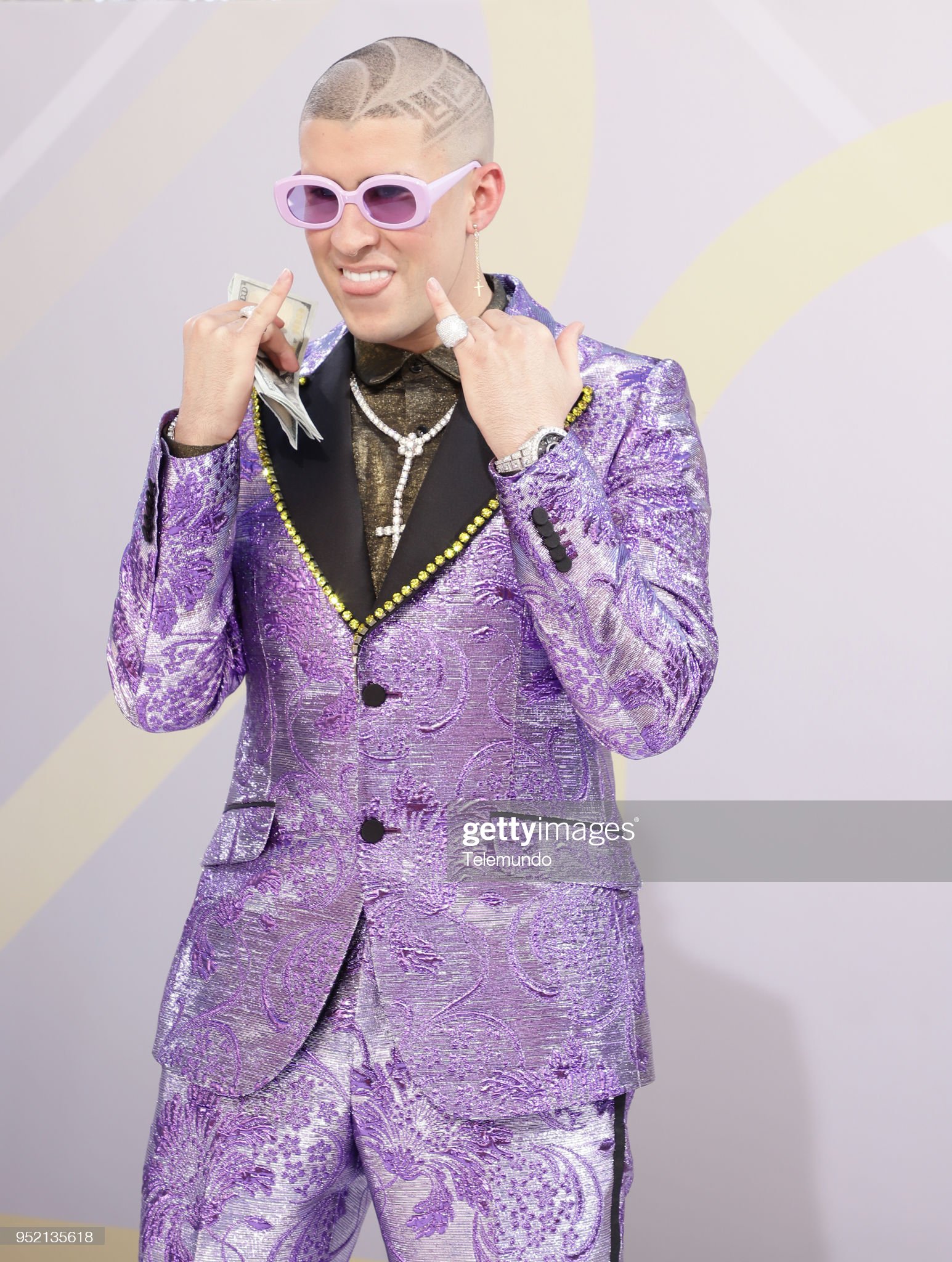 Bad Bunny, pre-Storm, in his "loud and icy" look in 2018. You can see the vibe shift above once Storm took over styling.